Why Do New Haven County Property Managers Choose Us?
7/7/2020 (Permalink)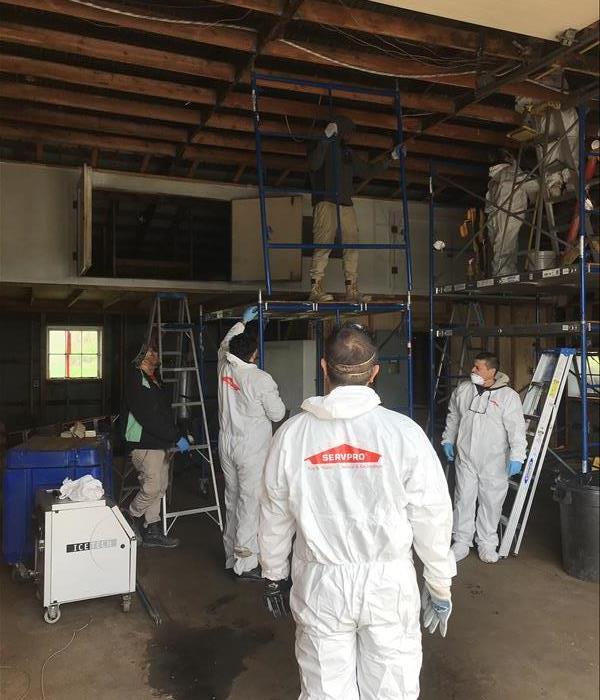 We know that when a property manager has damage to one of their buildings, they need professional help immediately. The SERVPRO of Milford-Orange-Stratford team is well-versed in mitigating water, mold, sewage and fire damage in commercial structures. We are available 24-7 and can arrive quickly to maintain the safety and security of your tenants and their homes.
The damage to apartment and condominium complexes in the Milford area is typically a result of a kitchen fire, burst pipe, sewage back up or an appliance leak. One burned pot in an apartment can easily cause widespread smoke damage to multiple homes as well as the shared hallways. A refrigerator line leak or overflowing toilet will quickly affect the apartments below. And if gone unchecked, mold growth can become widespread – especially if its growth is due to a slow leak in a pipe behind shared walls.
As a property manager, you maintain your buildings and try to get ahead of potential problems however there will always be an unexpected event that creates a need for restoration work. That's where SERVPRO of Milford-Orange-Stratford comes in. We understand that you have a duty to your tenants and we work to keep them in their homes if possible and restore their lives back to normal in a professional and efficient manner.
You have enough on your plate – you don't need to have the burden of worrying whether your restoration work is being done correctly. Property managers in New Haven County know that our team is fully trained, work professionally and respectfully and that we stand by our work. That's why they call us time and time again for their water, fire and mold restoration needs.
Just as your clients depend on you to keep them safe, you can depend on us to properly restore your building.