"Hey, SERVPRO - I Have a Question..."
2/11/2020 (Permalink)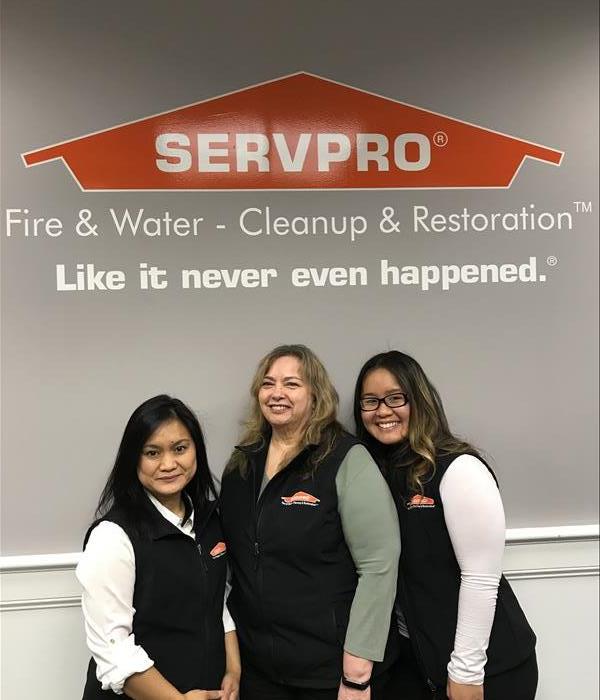 The first person you will likely talk to when you call our office is one of our administrative assistants- Theny and Alexis, or our office manager Kathy. These ladies have heard it all in their line of work - from exploding fire extinguishers, to toy drones catching on fire to a neighbor driving their car into a house. And we won't even go into the things that children have shoved down toilets, causing overflows of epic proportions!
Typically, though, a day in the life of one our admins usually includes phone calls with questions such as:
Will this be covered by my homeowner's insurance?
Whether it's mold discovered in the basement, water damage from a leaky roof or broken windows from a fallen tree limb, this is often a question we get asked. And, the answer depends on your particular policy and will need to be answered by your insurance agent. That said, the majority of homeowner insurance policies cover water damage scenarios such as water damage from broken appliances, pipe leaks, burst and frozen pipes and toilet overflows. What is typically not covered? Flooding from storm water is typically not covered on a basic homeowner's insurance policy. Nor is mold when due to a failure to maintain a home properly. For example, if you know that you have a roof leak and don't address the problem, mold that grows as a result may not be covered.
I'm nervous about workers in my home - who do you hire?
We understand that it can be stressful to have a disaster in your home and unknown people working inside of it. We employ only people who we feel comfortable allowing into our own homes and on top of that, all of our employees have undergone a background check to ensure that they are trustworthy and safe. Our Production Managers oversee the crew as well as the work being done in your home and are available to you should you have any concerns at any time during the restoration. In addition to possessing advanced knowledge in the restoration industry, our main criteria when we select someone to be a Production Manager is that they are an easily approachable, "people person" who will put our customers at ease.
How quickly can you get here?
You'll see that we advertise that we are open 24-7. We have a crew on call throughout the night and on weekends to respond to emergencies. When you call during the day, we will typically be at your home or business within 1.5 hours. If there has been an unusual storm that has affected thousands of people in the area, we may take a little longer and prioritize our calls based on the level of need of our customers.
What services do you provide?
SERVPRO of Milford-Orange-Stratford is a full service, start to finish restoration company. We provide water and fire damage restoration as well as mold remediation in homes and businesses. Our team is trained to clean up biohazards such as oil spills, blood, feces and animal waste. Our cleaning services include duct cleaning as well as carpet and general cleaning. And our Building Services team is licensed to repair your home - offering services such as kitchen and bathroom installations and roof replacement.
Not sure if we can help with your unusual disaster situation? Give us a call and ask. Chances are, it won't be the first time we've heard it!