Wintertime Hazards in Milford, CT
1/25/2022 (Permalink)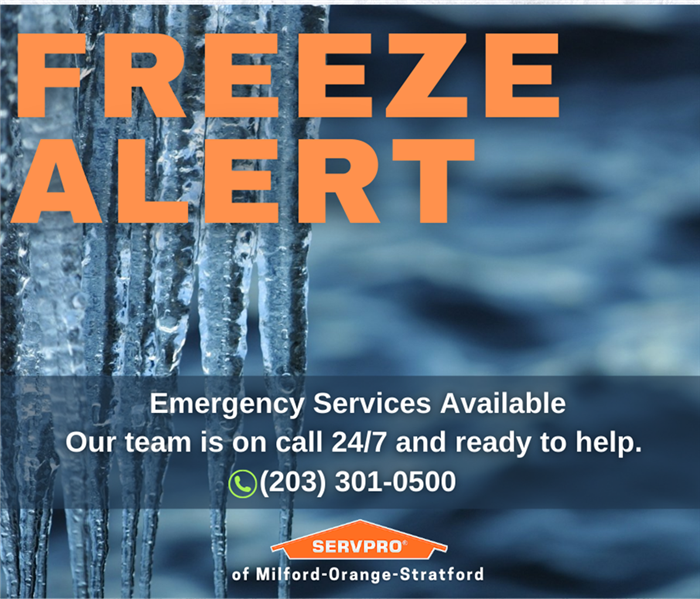 Snowstorms are followed closely by our team here at SERVPRO of Milford-Orange-Stratford. A strong nor'easter can cause trees and their limbs to fall. When a tree limb falls on a home, it often causes damage to the roof and allows snow and water to enter the home. Our crew provides emergency board up services to prevent further water damage. Our restoration team restores local homes and businesses from water damage that results as well.
High winds and the weight of snow and ice on the limbs can causes a tree to fall on a power line. This can cause a power outage that will result in the loss of heat for many homes as well. With oil burners and electrical heat sources not functioning, homes are at risk of pipes freezing and bursting. This can cause widespread water damage. A crack of only 1/8 of an inch will allow 250 gallons of water to flood out in just one day! Water from burst pipes can cause substantial damage including the collapse of ceilings and walls in a home.
It is extremely important that a qualified restoration service be called as soon as possible to clean up the water and damaged materials. Quick action can allow us to save more of your belongings and prevent secondary issues, such as mold.
Be prepared for the coming snowstorms this winter! Have an emergency supply kit ready and keep our number - (203) 301-0500 - on hand in case you have storm damage to your New Haven County home.