Ways to Prevent Water Damage From Washing Machine Leaks In Your Woodbridge Home
3/5/2018 (Permalink)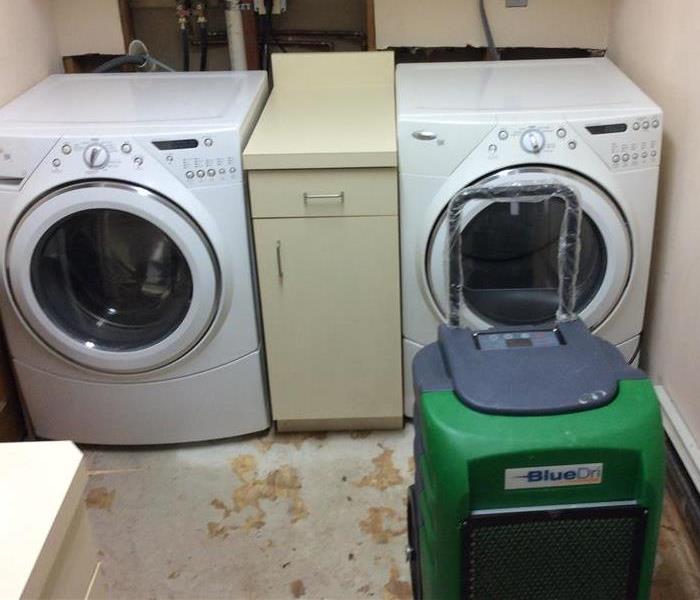 Whether from a burst hose or a failed pump valve, when washing machines malfunction they cause widespread water damage to Stratford area homes.
Most Connecticut households have a load of laundry going on a daily basis. The average life expectancy of a washing machine is 11 years and during that time, it endures 5,000 wash cycles. We put these appliances "through the wringer" - subjecting them to years of use without much thought about maintenance. It's no surprise that flooding from washing machines is a common cause of water damage to Milford homes.
Not only do washing machines malfunction often, the flooding that they cause tends to be very damaging due to the amount of water allowed to enter a home. A small crack in a hose can allow up to 250 gallons of water to enter your home in just a day. That's a lot of water working it's way through your home - in particular if you start a load and then leave for work, as many of us are apt to do. This can be especially damaging if you have a second floor laundry room.
There's no convincing any of us to give up our washing machines and go back to old fashioned washboards, so what can be done to protect a home from flooding? Having responded to dozens of homes with water damage from washer leaks over the years, the SERVPRO of Milford-Orange-Stratford team has identified a list of preventative measures that homeowners can take to reduce their risk of home flooding from washing machine malfunction.
Check that your connectors have not loosened and are secured tightly – look for moisture, rust or dripping around the connections.
Get rid of those old rubber hoses! If you have a rubber hose on your washing machine, replace it with a stainless steel hose – they cost under 20 dollars and will not crack, burst or wear out like rubber ones can.
Give your washer a little breathing room. Keeping it 6" away from the wall can prevent your hose from kinking.
Look for machine movement. Keep an eye on your machine's location- if it seems to drift to one side or forward, it may be imbalanced. This can also stress connections and hoses.
Turn the water off. Get in the habit of turning off the water supply valve (usually located behind the machine) when you are leaving your home for an extended time.. It's a good idea to turn off your main water supply as well if going on vacation.
Don't overload your washing machine as this can cause stress on the machine and connections.
Inspect the pump valve to your washing machine to make sure there is no debris or blockages to the valve or it's filter. If blocked, the water cannot drain properly and will end up leaking out and onto (and through) your floors.
If you really love having that upstairs laundry room because of the convenience, install a flood stopper in your laundry room. This device, which is placed on the floor near your washing machine, has a sensor that detects moisture. If it is triggered, it will automatically shut off the water supply! For about $150, you can have the peace of mind that if something does malfunction, your damage will be minimal.
Water damage of this type requires a clean up from a professional restoration company. The water may have seeped under the linoleum or carpeting and saturated the subfloor. Walls and ceilings of the lower levels may be wet from the floodwater and require removal. Proper water damage restoration will ensure that mold does not grow due to the home not being dried and sanitized properly. Fortunately, most homeowner's insurance policies cover water damage from appliance leaks. If your washing machine floods your home, call SERVPRO of Milford-Orange-Stratford at 203-301-0500. Our IICRC trained team will restore your home from start to finish, from the initial water extraction until the last piece of new baseboard is nailed down.