Will My Insurance Company Cover Mold Growth in My Milford Home?
7/16/2018 (Permalink)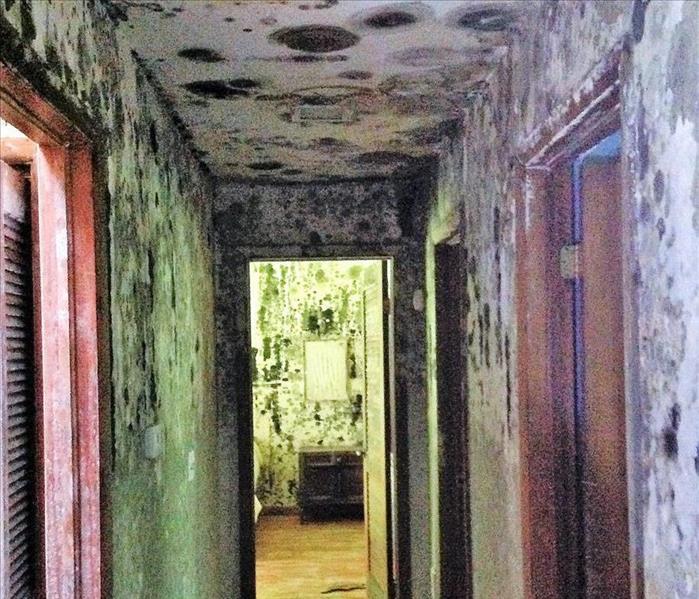 If not immediately treated, mold can quickly spread throughout a home, causing extensive mold damage that may not be covered by your insurance agency.
When a homeowner discovers that mold is growing behind their walls, in their attic or under their carpeting, one of their first questions is whether the mold will be covered under their insurance policy.
Although there is no universal answer to that question, as homeowner's insurance policies are unique from provider top provider, there are some general guidelines that most insurance companies adhere to.
Typically, your homeowner's insurance policy will cover mold remediation if the mold is caused by "covered peril". What this means is that the cause of the mold growth is already covered by your insurance policy. Since mold is caused by high moisture levels, covered cases are generally from water damage claims. In addition, most of the homes that we restore after fire damage also have secondary water damage as a result of firefighting efforts. Because mold growth can happen within 24 hours, even water damage that is being properly addressed can lead to mold growth.
If the mold found in your home is not from a sudden and accidental event, it mostly likely will not be covered. Mold damage that is caused by a water leak or high moisture levels that could have been prevented typically do not fall under a homeowner's insurance policy. Insurance companies expect that a home should be properly maintained and any defects that could lead to mold growth addressed.
A scenario we frequently see is that of a pipe that bursts in the basement. If the homeowner discovers the damage later that evening and calls a restoration company to begin the cleanup, any mold growth caused by this event should be covered. However, if the water and mold damage from a pipe burst isn't discovered for two months because a home has been left vacant with no caretaker while the owners are away on winter vacation, an insurance company may decide that the home was being neglected and deny coverage.
A water leak from a washing machine that has been properly maintained would usually be covered. However, if the machine has old hoses that have been slowly leaking for months, that would be considered neglect and may not be covered.
Roof leaks are also a common cause of mold growth. Attics tend to be high moisture areas that aren't frequently visited. If you find mold in your attic despite having a newer roof that is properly maintained, you may be covered. A roof that has 40 year old shingles is considered past it's life and mold growth at that home may not be covered.
Most homeowner's insurance policies in Connecticut do not cover flood damage. If you have mold growth after heavy waters from a rainstorm leave a few inches of water in your basement, neither the water nor the mold damage will be covered. If you live in a high risk area for flooding you may consider purchasing separate flood insurance for your home.
Prevention is the key to avoiding uncovered mold damage at your New Haven area home. If you notice high moisture, damp areas of carpeting, buckling of vinyl or wood flooring or water stains on your ceiling or walls, do not ignore it! All of these are signs that there is a leak or high levels of moisture that can cause mold growth. As tempting as it may be to turn a blind eye to potential issues, acting on them quickly can save you thousands of dollars in the end.
If, despite proper home maintenance and vigilance, you still worry about mold in your home, a separate mold insurance rider can be purchased from most insurance companies.
If you see black, green or any shade of mold growing in your home, give us a call at (203) 301-0500. Our IICRC mold remediation professionals will inspect your home, find the source of the mold and advise you on a corrective course of action.