Attic Mold Causes and Remediation in New Haven County Homes
6/13/2018 (Permalink)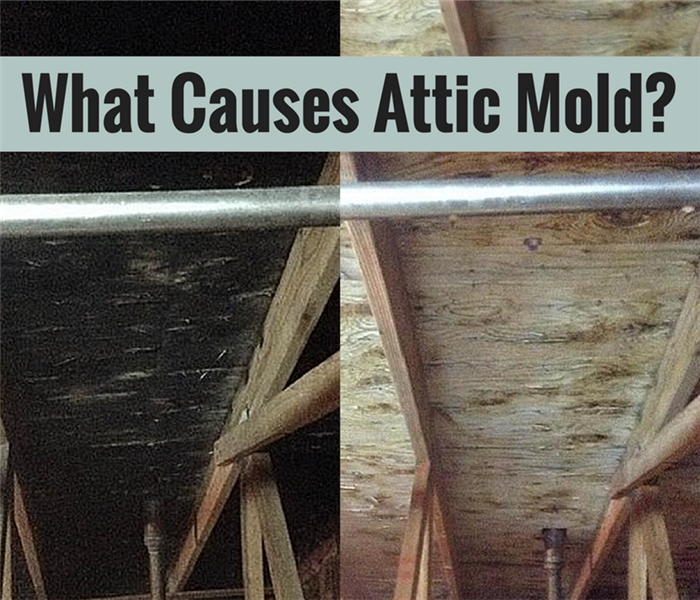 Mold in the attic of your Milford area home can be caused by improper ventilation and insulation as well as leaking appliances and roof leaks.
Summertime has the phones ringing in our Woodbridge office from homeowners who have discovered mold in the attic of their home. Mold in the attic can compromise the air quality in your home and, if left untreated, can spread to other areas as well. Often hidden in a space few of us visit regularly, attic mold has a few common causes: a leaking roof, inadequate attic ventilation, the wrong type of insulation and appliance leaks and failures. Attic mold is avoidable with some precautions taken and vigilance.
A Leaking Roof
Inspect your attic seasonally for signs of water damage such as wet insulation, stains on plywood and black spots that could be mold. Leaks are common around plumbing stacks as well as the area where two roofs join. If you have recessed lighting, check the canisters for rust or corrosion. This is an indicator of high moisture levels.
Attic Ventilation
New Haven County homes typically have attics with soffit, ridge and gable-mounted vents. Having adequate ventilation is important because condensation can't escape your attic without it. We have inspected several homes for mold in which there is not the proper number of vents in the attic, or in which they are improperly installed. Also check to make sure that your vents are not blocked by insulation or stored boxes.
Dryer vents, plumbing vents, kitchen or bathroom fans that are vented into the attic can also create moist conditions. If yours are installed this way, contact a professional to re-route them outside.
A Well-Insulated Attic
If your insulation is installed incorrectly, or the wrong type of insulation has been used, moisture from the lower levels of your home can get trapped in the attic. This can feed mold growth. If you're layering insulation atop other insulation, don't use the kind that has "kraft face" finish (i.e., paper or foil backing). It acts as a vapor barrier and can trap moisture in the insulation. Check the condition of your insulation- it should be thick, soft and dry.
Appliances Installed in the Attic
In many newer homes, air conditioners, swamp coolers, and HVAC systems are installed in the attic space. There is the possibility that these may fail and cause water damage. A small, undetected leak in the attic can cause a mold disaster so have your system inspected regularly.
If you find mold in your attic space, give our office a call at (203) 301-0500. We will come out and inspect your attic and advise you on a course of action.