Water Damage Clean Up at Commercial Properties
11/28/2021 (Permalink)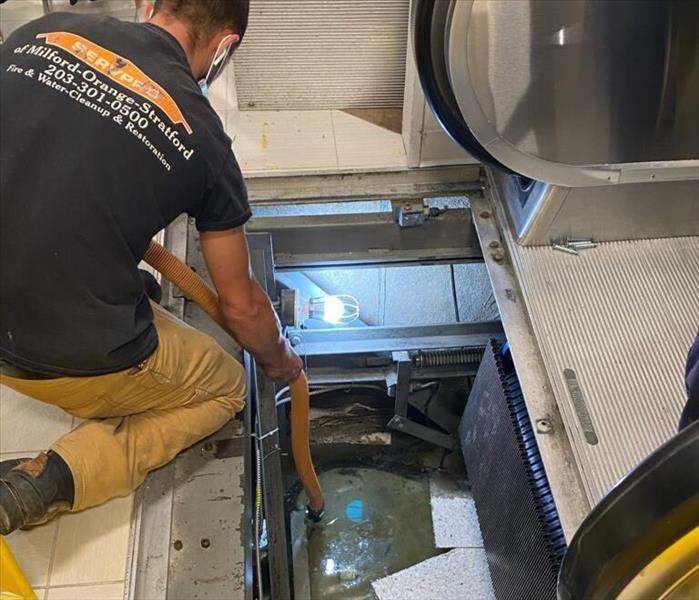 When you own or manage an apartment building in New Haven County there are many factors that can cause disaster in your complex.
Home to many families, all it takes is one tenant being forgetful and leaving a pot of boiling water on the stove to cause widespread smoke damage. A toilet overflow can cause water and sewage damage to multiple residences. Often, tenants don't report problems inside their apartments such as a water spots on the ceiling or a musty smell and by the time you discover it, the damage is a big problem.
The tenants in your apartment building count on you to prevent water, fire and mold damage in the building and address them as they arise. As the owner of the building, the maintenance and upkeep of the facility falls to you directly.
The services offered by SERVPRO of Milford-Orange-Stratford can assist commercial property owners. We provide preventative maintenance, such as commercial cleaning of carpets and upholstered furniture in common areas as well as air duct cleaning. We are also your local professionals for water, fire, mold, sewage and vandalism clean up.
There are many ways in which your apartment building can be damaged by water. For example, heavy snow can cause roof leaks or even a collapse due to the weight of the snow. Our franchise provides emergency tarping and boarding up 24 hours a day/7 days a week in the event that there is damage to your roof or windows.
Appliance leaks are commonplace in apartment buildings. Supply lines to refrigerators and ice makers, dishwashers and washing machines fail, causing water damage to not only the apartment itself but also to the floors below. We also see restore a number of commercial buildings each year after the pipes freeze and burst.
Quick cleanup is essential in commercial water damage situations-the longer water sits, the less salvageable items such as hardwood flooring, carpets and personal belongings become. As an apartment complex owner, the more you can save, rather than replace, the better. Mold can begin to grown in as little as 24 hours and spread throughout the building if the water removal process is not addressed immediately.
Even the smallest apartment fires can cause tremendous smoke and soot damage in your building. Because of the shared walls and ventilation systems, smoke and soot can easily travel throughout the building, filling the apartments with smoke. Our franchise has the crew and equipment to respond to widespread fire damage and begin the restoration process quickly and efficiently. We have the technology to not only clean the building itself but also restore the contents of the apartments, removing soot and smoke odors.
With so many families and tenants that trust you to keep them safe and take care of any problems that may arise, you need to have a restoration company that you can trust to be on the job and taking care of you if you have a water or fire emergency. SERVPRO of Milford-Orange-Stratford offers an Emergency Preparedness Plan that helps you have all of the pieces in place to best respond to an emergency in your commercial building. Give us a call today at (203) 301-0500 to discuss how we can help you keep your building safe.