How Can You Prepare for Disaster?
8/16/2021 (Permalink)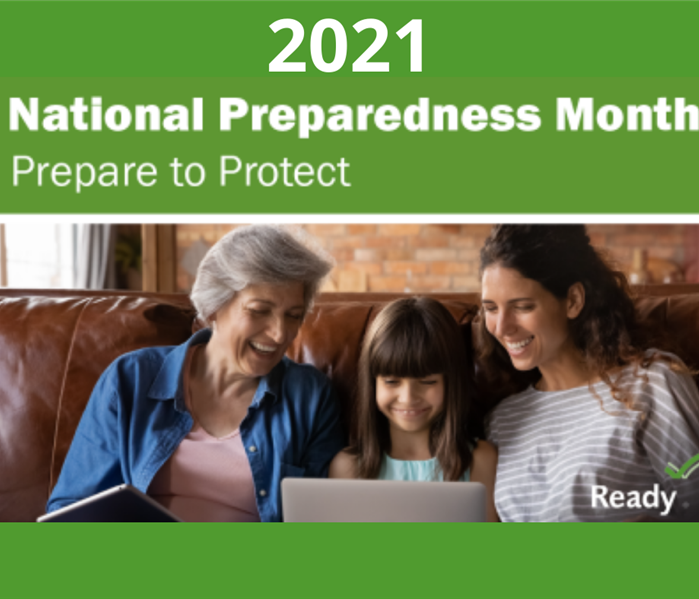 September is National Preparedness month and this years theme is "Prepare to Protect. Preparing for disasters is protecting everyone you love."
Here's the thing, it's just not a high priority to many people because we really don't believe a disaster will happen to us. We are all guilty of this. However, in our work, we see the reality of what a fire or flooding disaster can inflict on a family.
So, please take the time to make a plan – especially those with children, disabled and elderly family members in your home.
Start the conversation over dinner. Discuss what kind of emergencies could possibly happen that would require a plan. What if a storm comes while your children are at school? What if there is a fire in your house? Or their school bus has an accident? It's important to empower children with the knowledge of what your families plan is without scaring them.
Practice your fire escape plan by having a home fire drill at least twice a year with everyone in the home. Don't forget to include your pets in this exercise, as they will be a concern if an actual event happens. You can practice evacuating in your car as well. Many people have "bug out bags" with basic supplies ready in case of emergency.
We love the technology that is available to help in disasters. There are group texting apps that can be downloaded that will keep your family and circle of friends easily in contact in case of an emergency.
If you have a person in your home who relies on electrical medical equipment, contact your power company to get on a "priority reconnection service" list.
Look, it takes a few hours every year to work on your plan so set the time aside this week and practice!