Getting Ready for a Hurricane
8/16/2021 (Permalink)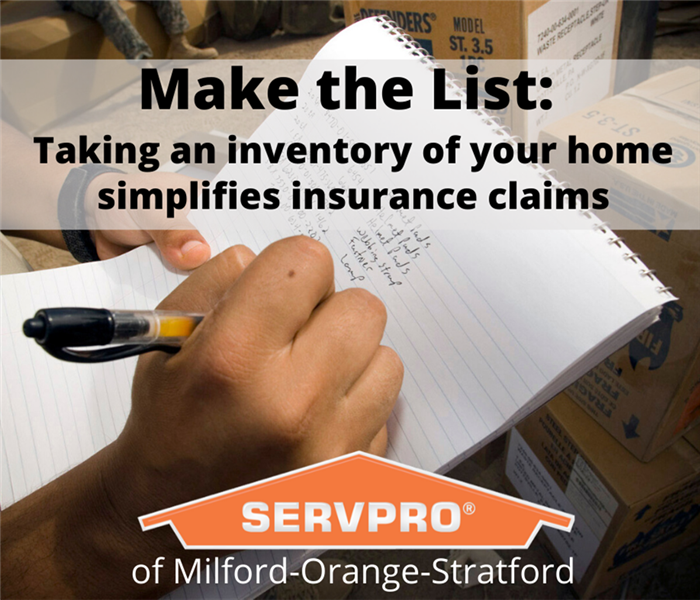 One of the of the best pieces of advice that we can give homeowners is to take a full inventory of their household contents. Most of us have a house full of belongings that we have accumulated over a lifetime which have both sentimental and monetary value. If you experience a theft or home disaster due to a storm, it may be difficult to recall every item in your home that may be missing.
By taking an inventory of your home, you will simplify your life in a number of ways. If there is a theft in your home or a water or fire loss, having an accurate accounting of your belongings will make your insurance claim much easier. Not only is keeping track of your things difficult under normal circumstances, if you have had a tragic event, your emotional state might make the ability to recall things even harder. An accurate list, with photos and values included, will help both you and your insurance company streamline the process of reimbursement of your losses.
Having a detailed list will also assist you in determining how much insurance coverage is needed to adequately protect you. If your home has been affected by a weather-related disaster such as a tornado or a hurricane and are eligible for assistance or a tax break, keeping an inventory can be beneficial.
When making a household contents inventory list, include both new and inherited items. Don't forget to include items found in your shed or garage – the value of lawn tools can add up! We recommend going room by room as you add items to the list. Take photos of each item and include these in your document. If you have a receipt for valuable items, scan it as well and include the copy on your list. The same should be done with any items that you have had appraised.
Make sure that you will have access to your list in the event that your computer is damaged or not accessible after the water damage. Although a hard drive or memory card could be used as a backup, they are also at risk of being destroyed. The best option is to keep your inventory list on the cloud or other external storage site.
Taking an inventory of your household items will give you peace of mind. It can be done in a day and then simply added to if you purchase or are gifted new items. Preparedness is the key step for recovering from a disaster smoothly. And while you have done your part, SERVPRO of Milford-Orange-Stratford will do ours. Whether you have a flooded basement due to storm water, broken glass from a theft or water damage because your roof was damaged when a tree fell on your home, our team will clean it up and help you get back to your normal life.