Don't Let Your Holiday Go Up in Flames- Enjoy Your Live Christmas Tree Safely
12/9/2019 (Permalink)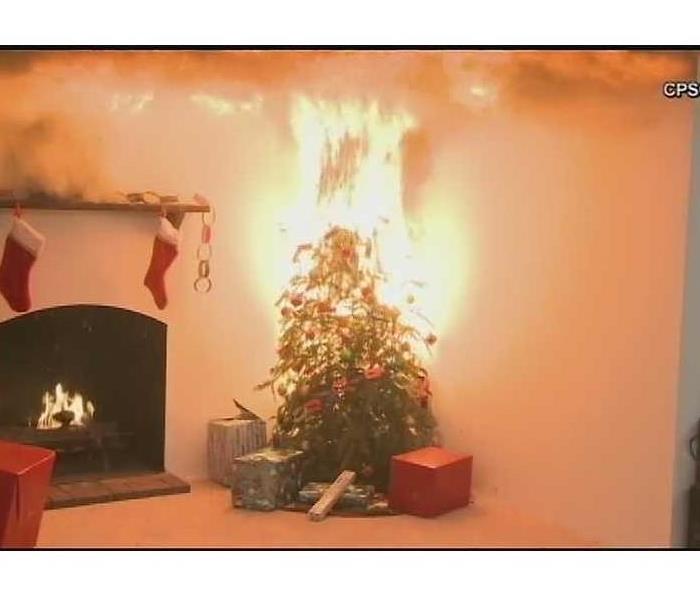 Connecticut has an abundance of "cut your own tree" farms as well as a number of retailers selling trees in parking lots throughout New Haven County. While live trees are part of the Christmas tradition, they also bring a potential hazard into your home.
Choosing the right kind of tree, and caring for it properly, will help reduce your risk of having a Christmas tree fire in your home this winter.
Buy a tree that is fresh. If you cut your own tree, this isn't an issue however if you purchase a tree from a retailer, be sure that your tree is fresh. Make sure the bottom of yours is sticky with resin. The needles should be green and supple and stay firmly attached to the branches if you tug on them or tap the tree gently on the ground. Tip: The earlier in the season you buy a tree from a lot, the fresher it will be.
Hydrate! A dry tree is a fire hazard. A real one needs water at least once or twice daily during the first couple of weeks.
Choose a safe location. Set your tree up in a safe place. Keep your tree away from fireplaces, radiators or electric heaters.
Check your lights. Make sure your strands of light do not have any fraying wires, bare spots or broken bulbs. Follow manufacturers instructions on how many strands should be strung together and do not overload them.
Dispose of your tree. Although you may not want the Christmas season to end, it is important to dispose of your Christmas tree shortly after the holiday. Despite watering, the tree will continue to die and grow dry and brittle as it ages.
Christmas tree fires are one of the most devastating restoration calls our office receives. Place your tree in the right location, keep it watered, use lights in good condition and dispose of it quickly after the holidays to help keep your holiday a celebration, not a disaster.