Residential Electrical Fires are at Their Peak in the Wintertime
11/19/2019 (Permalink)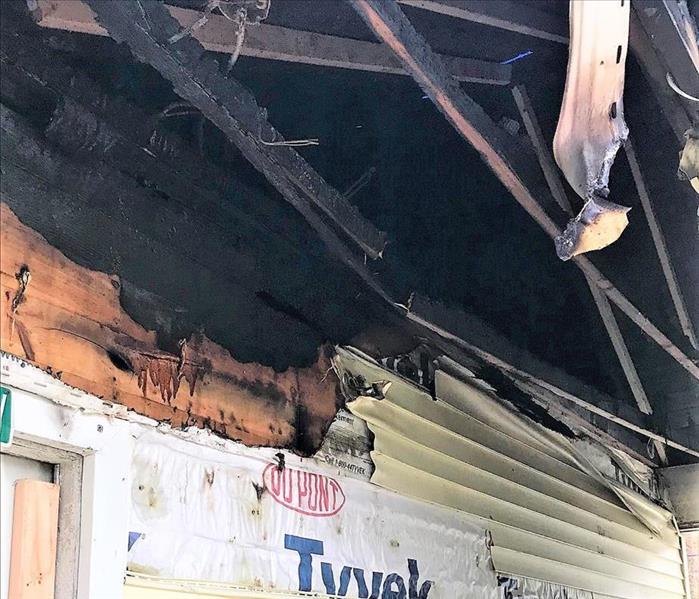 An electrical fire in this New Haven County home required the fire damage restoration services of SERVPRO of Milford-Orange-Stratford
We are currently restoring a home in which there was an electrical fire. These tend to be more numerous in the winter due to increased usage of lights and heating appliances. Electrical fires most often start in the bedroom of residential structures that er one and two family dwellings.
In other words, many of us are at risk of an electrical fire his winter.
The most common cause of residential electrical fires is faulty electrical outlets and appliances (typically older and outdated ones). Although there is often no warning that an outlet is faulty or appliance a danger, there are some warning signals that should not be ignored. These include frayed cords, sparks visible when using and outlet or a finicky switch.
Outdated wiring in older homes often lack the capacity to handle the electrical demands of today's homes. Circuit breakers are designed to be triggered when circuits get overloaded by too much electricity, but outdated breaker boxes often have worn connectors that do not work, causing the system to overload and start an electrical fire.
Make sure that your lighting fixtures are always being used properly. For example, using a bulb that exceeds the wattage recommendations for a light fixture creates a fire hazard. Fabric or paper placed over a lampshade can easily ignite.
In our work, we have seen several fires that are the result of the misuse of extension cords. Household appliances such as refrigerators and dryers should be plugged directly into the outlet and not plugged into an extension cord for any length of time. Additionally, removing the grounding prong from a three prong cord creates a fire hazard. If you do not have the appropriate type of outlets for your appliances, hire an electrician to install new ones.
We've discussed safety concerns in regards to space heaters before however feel we cannot stress enough the importance of using them with caution. Due to their portability, space heaters are often placed way too close to combustible surfaces such as curtains, bedding, laundry baskets full of clothing, rugs and upholstered chairs and couches. Coil space heaters are especially dangerous in this regard because the coils become so hot they will almost instantaneously ignite any nearby flammable surface. However, even the newer infrared heaters pose a danger and should be used only by adults and placed in a safe space.
For information on our Fire Damage Restoration Services, please call our office at (203) 301-0500.