It's Time to Protect Your Home Against Water Damage From Frozen Pipes and Ice Dams
9/26/2018 (Permalink)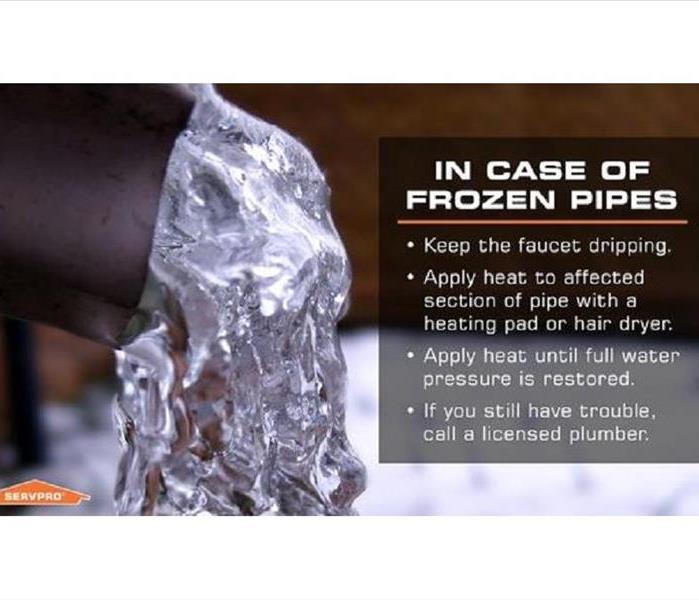 Today was a cold one and although we may have a week or two before the temperatures dip down to fireplace weather, it's time to start thinking about winterizing your home.
The winter is our busiest time of year for a reason- it's when pipe's burst, ice dams cause water damage and the risk of house fires goes up with the use of wood stoves and portable heaters. Take a few hours to inspect your home and repair problems that can potentially cause water or fire damage.
Insulate your pipes: Pipes close to exterior walls and in unheated spaces such as the garage and basement are vulnerable to freezing. Insulating them goes a long way in reducing your risk of frozen pipes.
Winterize your outside faucets: Drain outside sprinkler systems and hose bibs. Shut off the water supply (usually located in your basement) and detach your hoses.
Check your gutters: By removing leaves and debris from gutters, melting snow and ice can flow freely. This will prevent "ice damming" – a condition where water is unable to properly drain through the gutters and instead seeps into the house causing water to drip from the ceiling and walls.
Have your chimney inspected and cleaned: The chimney should be swept annually and checked for cracks and creosote buildup, both of which can cause house fires.
Check for drafts: Close off crawl spaces, vents and doors that might cause drafts. Repair broken or cracked windows, and check insulation and caulking around doors and windows.
If you experience water damage in your home from a burst pipe, basement flooding or an ice dam, take the following steps while waiting for a professional restoration company to arrive.
Stop the source of the water. Cleanup and restoration cannot begin until the origin is 100% addressed. In the case of a burst pipe, call your plumber to repair the pipe.
Turn off circuit breakers. The water presents a risk of shock. Turn off the circuit breakers that supply electricity to wet areas. If it safe to do, unplug and remove electrical devices located on wet floors and surfaces. This probably goes without saying but avoid using electrical devices or equipment while standing on any wet surface.
Turn off the HVAC system. If it has been in contact with any water or sewage, there is the possibility of biohazardous materials being spread via the ducts.
Remove small household contents. Small furniture, electronics, area rugs, artwork and valuables can be removed to a dry area to reduce the level of damage. Remember to check under beds and in closets.
Larger furniture can be protected by placing aluminum foil under legs of wood furniture. Not only does this protect the furniture from the water damage that standing water can cause, it will also protect your carpet and flooring from staining.
Hiring trained water damage mitigation and structural drying professionals is safer, easier and less expensive than the cost of repair and replacement of property damaged during improper water mitigation efforts. Most cases of water damage from burst pipes and ice dams are covered by insurance. If you fail to have your home properly cleaned and dried out, any secondary problem that might arise, such as mold growth, may not be covered. Quick action and hiring the right, professionally trained restoration company to clean your home after water damage is crucial in protecting your home.