Is it Really Necessary to Clean Your Dryer Filter Before and After Each Load?
4/29/2019 (Permalink)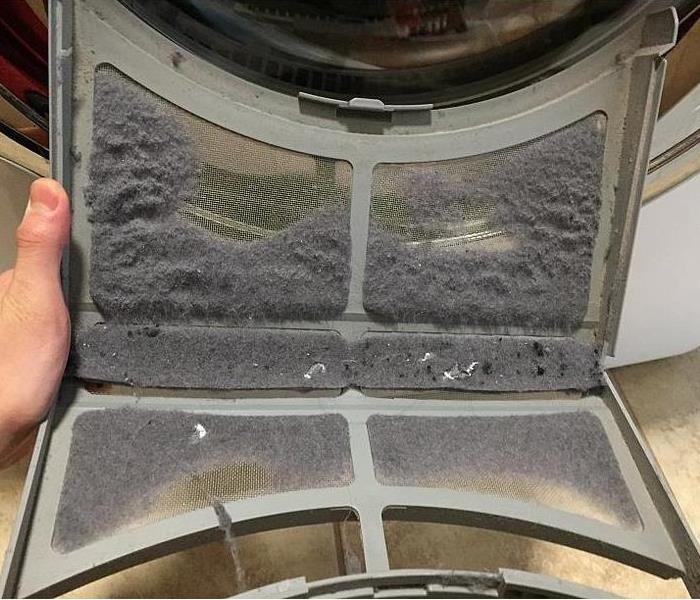 Cleaning out your lint filter before and after you use your dryer reduces your chance of a house fire.
Have you ever wondered if it is really necessary to empty the dryer lint filter each time you run a load?
Sure, the label on the dryer explicitly states that you should do so but products have so many precautions these days that some seem a little exaggerated and not all of us follow every warning. However, consider that the dryer in your home depends on a 4 inch metal vent to safely exhaust that hot air outdoors. This vent can easily become blocked with dryer lint, which is highly flammable (remember the old boy scout trick of using dryer lint to quick start a fire?).
According to the U.S. Fire Administration, 2,900 home clothes dryer fires are reported each year and cause an estimated 5 deaths, 100 injuries, and $35 million in property loss. The number one cause of home dryer fires is the failure to clean the dryer vent.
Safety experts advise that you clean your dryer lint filter before AND after each load. Clean any lint from inside the filter receptacle as well to remove any lint that might have passed through. In addition, use a brush to clean the vent pipe itself every 3 months. Don't forget to vacuum behind your dryer - it's a common place for lint build up. Inspect the exterior vent on a regular basis - broken vent flaps as well as insect and animal nests can block the exit of the hot air.
Switching the laundry from the washing machine to the dryer is an easy chore for kids to do however they are very likely to forget to empty the lint filter. Make sure that this is stressed as an important part of the chore and double check after they've finished to make sure it's been properly done.
If you notice that your clothes are taking longer to dry than usual, that is a sign that the flow of air is restricted in your dryer. If, after inspecting and cleaning out all of the accessible areas yourself, the problem is not resolved, we advise that you have a professional come out and find the source of the problem.
As fire damage restoration professionals, we see firsthand how devastating a house fire can be. Starting the habit of cleaning out your dryer filters and vents properly will reduce your risk of a home fire.