This Spring, Inspect Your Gutters to Avoid a Flooded Basement
4/23/2018 (Permalink)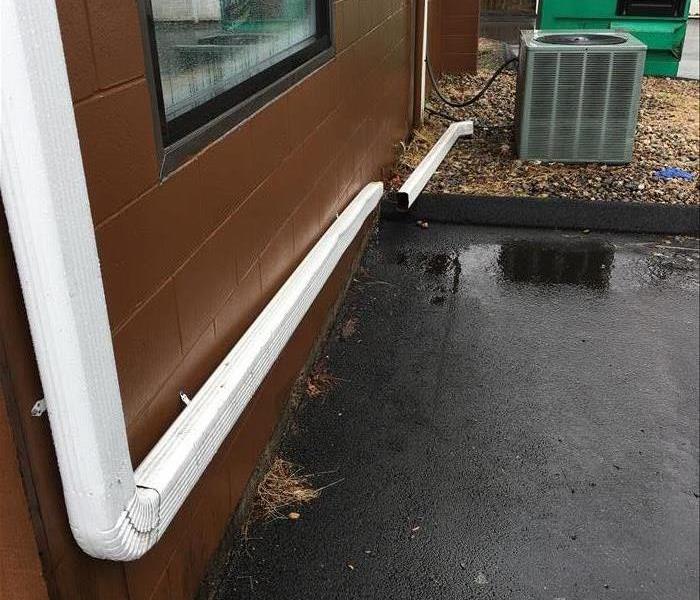 Something as simple as a broken gutter can cause serious flooding to your Wallingford, CT business during a rainstorm.
With all of the rain our area is having, we are currently restoring several homes and businesses that have water damage from basement flooding. We recently received a call from a business owner in the Meridan, CT area who had flooding in the basement of their commercial property. The cause of the flooding in this case was a broken gutter.
Gutters and downspouts play a vital role in keeping rainwater and melting snow directed away from a buildings foundation. If a gutter is clogged with leaves, is broken or has been misaligned, water can collect around athe foundation and make its way down into the basement. After a winter of high winds and heavy snow, it wouldn't be surprising if your businesses roof or gutters might have suffered damage. Take a quick walk around your building and make an inspection.
Make sure your gutters are clear of leaves and sticks. If blocked, the rain will fall over the edges and fall too close to the house. Also check to see if there are any breaks or damage to your gutters. Check that the downspouts have not been pulled away from the structure due to high winds this past winter. Keep the water flowing away from your house, which may require a gutter extension to direct the water even further away. It is recommended that your downspouts be ten feet away from your structure. A splashguard at the end of your downspout extension can also help the soil from eroding.
We also recommend that you inspect your foundation. Look for small holes or cracks through which water can enter. It doesn't take much water to cause substantial water damage.
The best time to conduct your inspection is directly after (or during) a rainstorm (if it is safe to do so!). You will be able to observe where water is puddling up and note any problem areas. If you see any water falling over the edge of your gutters while it is raining, there is a problem. If your gutters are in good working order and there are no blockages yet you see water collecting, it's possible that the area around your foundation requires grading to encourage the water to drain away from your building.
If you have concerns that you are at risk of flooding, check your insurance policy to see what it covers. Not all insurance policies cover flooding from groundwater. However, many insurance agencies offer optional coverage that offers protection from flooding caused by groundwater entering your home through the basement walls and foundation.
The longer water is allowed to remain in a flooded basement, the worse the secondary damage will be. If you have a flooded basement, contact SERVPRO of Milford-Orange-Stratford and let our team of experts help you out!